Apparel matrix
+ versions layer
In addition to colors and sizes matrix, OLOtech includes a Version layer to handle a group of sizes (short, reg, tall), and/or a product options or with different cost/prices .Each product includes an unlimited amount of selling price categories, currencies and price periods based on date.

Flexible Web CRM
Apparel Web ERP
state-of-the-art inventory
Product inventory uses 9 categories and consolidated transactions to accommodate all situations. Customer order, Purchase order or Packing list can undone or modify without problem. All missing or removed items will be putted back to the proper category to be purchase or deliver later one or to be unreserved for another customer.
Apparel Enterprise Resource Planning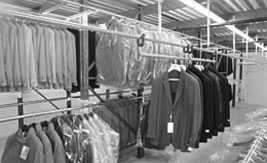 OLOtech displays the status of all open orders, several different overview options are available, all designed to highlight issues and focus your attention where it is needed. Customer order information includes: warehouse, bin and stores, quantity, buy prices, selling prices, ship dates and methods, allows for split shipments, payment and invoicing information, delivery addresses, LC information, storage, shows actual cost of order, flexible price list and discount management, RMA, quote management
.
OLOtech automates all operations, saving you from re-entering customer\supplier static information and product information line-by-line instead of at one time.
Information of all departments are linked together to simplify company management and customer support. OLOtech automatically generates Purchase orders and manages Finish Goods Inventory allocation, Packing List\EDI 856, Invoice\EDI 850 and Sales Representative commissions. Customer order\EDI 810 are entered online or imported from text file (example from Web store). Product inventories are managed per warehouse and per bin.
Import Project Management
The project management allows you to easily manage the design and production of hundreds of styles per activities due date, staff responsibility and supplier.
Each project can handle one or multiple styles and unlimited amount of activities. Each activity has a plan and actual start and finish date related to a specific calendar. At the completion of an activity OLOtech can sent automatically a message to the next responsible and can modify the Product Status (PLM) Product Lifecycle Management.

Customer Relation Management
Barcode