OLOtech is available as full package to ensures the consistency and continuity between product development, purchasing/production and selling operations. There is no "optional modules" to purchase.
APPAREL PDM/PLM
Product Design Spec Sheet
Fabric / Component libraries
Cost Sheet
Measurements Template
Custom Catalogue
Excel Export/Import
APPAREL MRP
Production Planning
Cutting Slips / Dye Lot Control
Inventory Management Threshold Control
Raw Material Inventories
Purchase Order Generation
Labour management
APPAREL ERP/CRM
Customer Orders /EDI / POS
B2B Catalogue, API for B2C Web site
Customer credit margin management
Packing Lists / Shipping label
Quotes / Invoices / Credit Notes / Payments
Commissions / Royalties
Project Management
Notes / File Attachments
Consolidated Finish Goods Inventory
Warehouse / Bin, Barcode Scanning
SOFTWARE ADMINISTRATION
User & Group Privilege(800) Management, Customer / Sales Rep / Contractor Filtered WEB Access
Multiple Currencies / Taxes / Selling Prices / Discounts
E-Mailing documents & Marketing / Dashboard / Internal Messages, Critical Issue Email / Message Alerter
Complete histories as per; User, Record, Inventory Transactions
Report per: Receivable, Customer, Supplier, Orders, Delivery-date, Department, Transaction, Warehouse, Bin, Style, Season, Division, Collection, Group...
SaaS CAD 540 per month
Unlimited amount of users

Instead of purchasing the software you can use it as a SaaS (Software as a Service) and pay monthly. All Email/Skype Support and Software Upgrades (4 per year) are included with subscription service. CAD595 first time activation fee is free with 3 months advance payment. Service can be cancelled at any time and can be converted to software purchase at any time. PDM/PLM section (included in full version) only is CAD250 per month.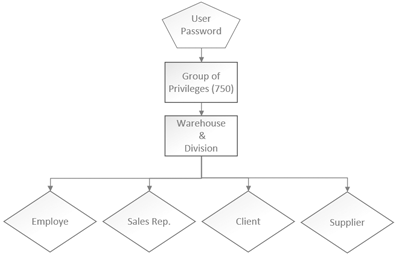 OLOtech includes an unlimited number of users for employees, sales representatives, customers, and Suppliers. All is filtered so that each and every one sees and changes only what is about.
The OLOtech API connects B2C transactional websites such as Shopify, Magento and WordPress
Installation on your server Cad 22,995
unlimited amount of users

The software will be installed on your computer remotely. After the first two years the mandatory service contract Support is CAD 3450 including 4 software update per year. One important aspect of OLOtech ERP is the cost of the total solution. Since Microsoft.NET Framework, the SQL Express and the Browser are free software, you only pay for the ERP portion. Alternately the PDM/PLM section can be purchased for only CAD 9695, service contract after two year is CAD 1450.

Free Crystal report runtime
Free Microsoft SQL Express 2019
All transactions will be billed in CAD Canadian dollars.
CURRENCY CONVERSION
Support 24/7
Support is provided remotely on Skype and GoToMeeting. Service contract covers OLOtech software and related Microsoft software. OLOtech is responsible for information security backup (SaaS). General inquiries can be address by Email. Emergency phone number is available 24/7.
The price for implementation service is CAD 135 (Skype) per hour billed per 15 minute or CAD 945 per day + expense for onsite training. We will assist you on a daily base during the implementation process. We will lead you to the different system options relative for your type of business.
In order to speed up implementation process we will assist you with importing all information available in text file; product, colors, fabric, price, client, suppliers etc. Once your OLOtech is setup, we will create a duplicate as a practice database; thus allowing you to simulate any complete or partial operations cycle without worrying about altering your real data. When ready we will monitor you during your first live complete operation cycle.